This article is about an undiscovered element. Once it is discovered, this article will be edited with more information.
Ununennium
119Uue
Appearance
unknown
General properties
Name, symbol, number
ununennium, Uue, 119
Element category
alkali metals
Group, period, block
1, 8,

s

Mass number
[316][1]
Electron configuration
[Og] 8s1 (predicted)[2]
2, 8, 18, 32, 32, 18, 8, 1

Physical properties
unknown
Atomic properties
unknown
Most stable isotopes
Main article:

Isotopes of ununennium

v

•

t

•

e

•

r
Ununennium, Uue, is the temporary name of element 119. Wikipedia has an article, "Ununennium", which addresses this element at length. This article focuses on topics Wikipedia does not: isotopes far from N = 184, which isotopes can actually form, and how long the element will be present.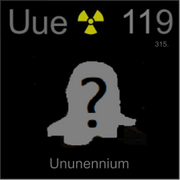 There are a large number of neutron-rich Uue isotopes which can form. All will disappear within 1000 sec after the event which led to their formation. There are also many isotopes near the N = 184 and N = 196 shell closures, but these cannot form, except by physicist-catalyzed reactions. 
While this element can exist in nature as a nuclear phenomenon, its chemistry exists only in the laboratory. 
Efforts have been made, and are presently underway, to synthesize Uue. None have been successful as of 2020, so it remains the smallest (lowest atomic number) element which has not been discovered.
Nuclear properties
[
]
Information sources
[
]
Wikipedia's article "Ununennium" has a section addressing predicted nuclear properties, That section is limited to consideration of Uue isotopes with neutron counts near 184. This article focuses on isotopes not reported on by Wikipedia, It uses two main resources chosen because of their independence from one another. A third source provides quantitative data over a limited range.
At least one document maps half-life and decay mode for elements below Z = 175 from the neutron dripline down to isotopes which are too neutron-poor to survive any appreciable length of time(1). Maps on pp 15 & 18 address the entire (Z,N) region covered, but report only the dominant decay mode and report half-lives only to within a band three orders of magnitude wide (0.001 - 1 sec, for example). More detailed estimates of these properties can be extracted from maps on pp 11 & 12, but only for a limited range of Z and N. Half-life data are reported by colors, which makes numerical estimates laborious to produce. This document is connected to Japan's KTUY model.
An independent map of half-lives and decay modes exists(2). This one is limited to A = 339, as well as to Z = 132. It does not show short-lived isotopes well, and gives half-lives only within rather broad and awkward bands. It does show multiple decay modes for single nuclides, although this feature is hard to read. It originates from models used by the Russian agency JINR, so is completely independent of Ref. 1.
Japan Atomic Energy Agency (JAEA) maintains an on-line chart of nuclides which includes decay properties of many predicted nuclides(3) - unlike charts published by Korea Atomic Energy Research Institute (KAERI) or the (U.S.) National Nuclear Data Center (NNDC). This chart gives separate numerical values for partial half-lives against fission, beta emission (both b- and b+), and alpha emission. These appear to be systematically too long, but are probably reliable to within an order of magnitude.
Predicted properties
[
]
Even-N isotopes from the neutron dripline down to 386Uue decay predominantly by beta emission with half-lives in the 0.001 - 1 sec range. Half-lives aren't reported, but the properties of beta decay indicate that half-lives close to 0.001 sec are likely(4). Odd-N drops in this band decay by neutron emission.
All isotopes in the band 385Uue to 370Uue are predicted to have half-lives in the 0.001 - 1 sec range. Dominant decay modes are a mixture of fission and beta emission. Which mode dominates depends on N, with specific values of N associated with fission over a range of Z values. It is likely that both modes are significant for all isotopes.
Isotopes in the band 369Uue to 338Uue are predicted to decay by beta emission. All have half-lives in the 0.001 - 1 sec range.
337Uue to 332Uue are predicted to decay by fission. Half-lives decline to very short by the bottom of this band.
Ref 1 predicts a gap from 331Uue to 315Uue, which is predicted to be occupied by nuclear drops or very short-lived nuclides, plus a set of fission decaying isotopes with half-lives in the 10-09 to 10-06 sec range in the band 314Uue to 312Uue.
Ref, 2 reports isotopes with half-lives above 10-06 sec in the band 316Uue - 314Uue. All have half-lives in the 0.001 - 1 sec band. They are all predicted to decay by fission. Ref. 1 shows no sign of this relatively stable zone.
Between 313Uue and 304Uue, Ref. 1 predicts a band of isotopes decaying with half-lives in the 10-06 - 0.001 sec range, while Ref. 2 predicts half-lives under 10-06 sec for that band. In addition, Ref. 1 predicts all but the heaviest ones will decay predominantly by alpha emission, while Ref. 2 predicts that all but the lightest will decay predominantly by fission.
In that same band, Ref. 3 indicates a dip in half-lives between 307Uue and 305Uue. Such fast-decaying, alpha-emitting isotopes are to be expected above the neutron shell closure at N = 184. The dip is invisible in Ref. 1 and Ref. 2 because half-lives are reported only to within relatively wide ranges.
Below 305Uue, studies of the decay properties of Uue isotopes become relatively numerous. Comparing them is outside the scope of this article. It should be said, however, that Ref. 3 predicts that 302Uue and 298Uue will have half-lives on the order of 0.1 sec, and that all other light Uue isotopes will have significantly shorter half-lives.
The lightest isotope reported by any of Refs. 1 through3 is 282Uue. There may be a few lighter nuclides with half-lives in the 10-14 - 10-09 sec range, but half-lives will quickly decline below the minimum needed for a nuclear drop to qualify as a nuclide.
Occurrence
[
]
Formation
[
]
All even-N isotopes from the neutron dripline to 386Uue can form, either directly as material is ejected from a disintegrating neutron star, as fission infall from larger nuclides, or by a chain of beta decays from directly-formed nuclides. All isotopes in the band 385Uue to 333Uue can form the same way, although direct formation is unlikely at lower N.
No isotopes lighter than 333Uue are likely to form. Beta-decay chains with proper A values starting near the neutron dripline are terminated by fission at Z < 119. Note that termination requires rapid decay by fission. Nuclides whose half-lives are comparable with beta-emission half-lives do not terminate beta-decay chains.
It is implausible that neutron capture can form any Uue isotope.
Persistence
[
]
331Uue and heavier isotopes which can form will vanish within 1000 sec after a supernova or neutron star merger which led to their formation.
330Uue through 315Uue lie at a higher Z than the terminating nuclides of short-lived beta-decay chains in this mass range.
314Uue and lighter isotopes are predicted to have short half-lives and to be incapable of forming via beta decay from the dripline.
Atomic properties
[
]
Wikipedia's article "Ununennium" addresses the element's atomic properties and chemistry in some detail. One point it does not make is that, while Uue nuclei can form, they do not persist long enough to reach an environment cool enough to allow chemical processes. The chemistry of Uue is entirely synthetic.
References
[
]
1. "Decay Modes and a Limit of Existence of Nuclei"; H. Koura; 4th Int. Conf. on the Chemistry and Physics of Transactinide Elements; Sept. 2011.
2. "Systematic Study of Decay Properties of Heaviest Elements."; Y. M. Palenzuelaa, L. F. Ruiza, A. Karpov, and W. Greiner; Bulletin of the Russian Academy of Sciences, Physics.  Vol . 76, No.11, pp 1165 – 1177; 2012
3. "Chart of the Nuclides, 2014", Japan Atomic Energy Agency; website available using "chart of nuclides" and "JAEA" as internet search terms.
4. "Nuclear Properties for Astrophysical Applications"; P. Moller & J. R. Nix; Los Alamos National Laboratory website; search by "LANL, T2", then "Nuclear Properties for Astrophysical Applications".
(10-02-20)