THIS ARTICLE IS RETAINED FOR HISTORICAL PURPOSES. SEE "UNTRISEPTIUM 02" FOR A DESCRIPTION OF THE ELEMENT'S PHYSICAL PROPERTIES.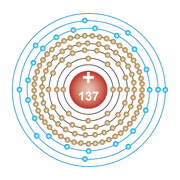 This article is about an undiscovered element. Once it is discovered, this article will be edited with more information.
Untriseptium
137Uts
Appearance
unknown
General properties
Name, symbol, number
untriseptium, Uts, 137
Pronunciation
/

uː

n

t

r

aɪ

ˈ

s

ɛ

p

t

i

əm

/
Element category
superactinides
Group, period, block
N/A, 8, g
Standard atomic weight
[364][1]
Electron configuration
[Uuo] 5g116f37d18s28p2
(predicted)[2]
2, 8, 18, 32, 43, 21, 9, 4
(predicted)[2]

Physical properties
unknown
Atomic properties
unknown
Most stable isotopes
Main article: Isotopes of untriseptium

v

•

t

•

e

•

r
Untriseptium (pron.: /uːntraɪˈsɛptiəm/), also known as element 137, is the temporary name of a hypothetical superheavy element in the periodic table that has the temporary symbol Uts and atomic number 137. As of 2018, no attempt has been made to synthesize untriseptium.
As of 2018, no attempt has been made to synthesize untriseptium.
Significance
Edit
Untriseptium is a temporary IUPAC systematic element name derived from the digits 137, where "un-" represents Latin unum meaning "one", "tri-" from tres meaning "three"[3] and "sept-" from either Greek hepta or Latin septua, both meaning seven.[4][5] Research scientists usually refer to the element simply as element 137. Transuranium elements like this usually end up being named after a scientist or the location of a laboratory that does work in atomic physics.
If this element is actually discovered, it may be renamed to supercalifraglisticexpialidociousium (symbol scfteadcs) after supercalifraglistiexpialidocious.
Extrapolated properties
Edit
Atomic and physical
Edit
Very little is known about the superactinides. Elements in this region are likely to be highly unstable with respect to radioactive decay and have extremely short half-lives (with the possible exception of element 126).[6]
References
Edit
Community content is available under
CC-BY-SA
unless otherwise noted.