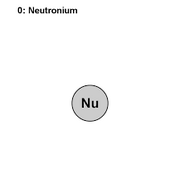 Neutronium

Symbol

Nu

Number

0

Group, Period

18, 0

Electrons per shell 

0

Discoverer

Suggested by Andreas von Antropoff, not discovered

Date discovered

Suggested in 1926, undiscovered

Atomic Weight

(1)

Category

Unknown, possibly a noble gas
Neutronium is an obsolete term for a theoretical element composed mainly of neutrons. The symbol Nu was given as the symbol of the predicted radioactive element. The element was suggested by Andreas von Antropoff in 1926 (before the neutron was officially discovered).
Neutronium stars
Edit
For more information see "Neutron Star", this wiki.
The word neutronium was used in literature to refer to material located in the center of a star. "element of atomic number zero" that he placed at the head of the periodic table. However, the meaning of the term has changed over time, and from the last half of the 20th century onward it has been also used to refer to extremely dense substances resembling the neutron-degenerate matter theorized to exist in the cores of neutron stars; hereinafter "degenerate neutronium" will refer to this. Science fiction and popular literature frequently use the term "neutronium" to refer to a highly dense phase of matter composed primarily of neutrons.
Uncertainty
Edit
People debate on if neutronium actually exists inside stars. It could be neutron-degenerate matter, strange matter, or quark matter in stars.
Periodic Table
Edit
Andreas von Antropoff suggested the element in 1926 and was originally placed above the noble gases.
It is now placed above and to the left of hydrogen.
References
Edit
|}
Community content is available under
CC-BY-SA
unless otherwise noted.