| | | |
| --- | --- | --- |
| | This page is one of the best pages from the community and may become a featured article! Go to the article's talk page to vote on or against the article. | |
This article is about an undiscovered element. Once it is discovered, this article will be edited with more information.
Biunoctium

Symbol

Buo

Atomic Number

218

Group, Period

2,8,18,32,50,50,32,18,8

Discoverer

N/A

Date discovered

N/A

Location discovered

N/A

Atomic weight

622 (predicted)

Category

Possible noble gas
Biunoctium is a very heavy theoretical element with 218 protons, and a mass of 622. It is a predicted noble gas.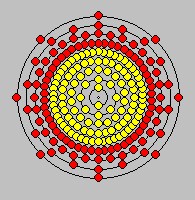 Currently, Biunoctium goes under a systematic temporary element name. As element 218 possibly a noble gas, is the heaviest element predicted, with the most protons. Since it is very far in the periodic table and never has been made, we know very little about it, therefore, it is hard to actually find something with this title.
As we speak, the reason these names seem so familiar to others is because elements go under a systematic temporary element name, using Dog Latin, -a form of debased Latin- used by scientists before an element is given its permanent name.
References
Edit